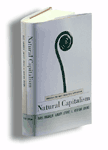 It is more than two decades since we started re-imagining global and local production. By the early 1990's, it was abundantly clear that we should not, nor could not, attempt to create a sustainable society by simply treating and collecting waste.
There are many inspiring examples of change since the 90's. From
Natural Capitalism
, which shows how we should produce our goods and services, to
Factor 4
. The most recent demonstrates an 80% reduction of environmental impact per unit of economic output is achievable and available to us today - it's here:
Factor 5
. Factor 5 covers everything from our
homes and cities
through to steel and
cement
, agriculture and transport.
But our overall society now has an even greater impact, by any of the common metrics, on the environment than it did in the 90's. If resource use and waste avoidance makes such economic sense, as the examples demonstrate, we're entitled to ask what's gone wrong. Why are we 20 years down the track with so many easy wins still waiting to be implemented? And what can we learn from some of the standout examples of change?
This is the first in a series of short blog posts. We've set the scene, so what are some of the barriers - beyond technology - in society, mindsets and worldviews. Next blog is on
valuing the future
over the
present
.